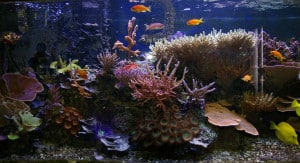 Most veteran saltwater tank enthusiasts are quite aware of the importance of providing all of the inhabitants of their tank with the nutrition they need to thrive in a contained environment. There is a significant difference between feeding a fish-only tank and feeding a saltwater coral reef tank, and this difference is one that must be accounted for on a regular basis. Through Reefs2Go.com, the live food that is necessary for enriching a saltwater tank with the most ideal nutrients is possible, and it does not require being subjected to the whims of the limited inventories that many pets shops provide.
The online reef aquarium supplier offers everything that is needed for beginning and maintaining a saltwater tank, including fish, corals, invertebrates, plants and more. The site is great for beginners and veterans alike, and it is clear that Reefs2Go.com has put a great deal of time into creating a site that provides a wealth of information regarding everything that goes into caring for a saltwater aquarium. Judging by the content of the site, Reefs2Go.com cares a great deal about not just its customers, but also the tank inhabitants it offers through its site.
Regarding the live food that Reefs2Go.com has available on its site, the company has a broad selection from which consumers can choose. This should come as no surprise, as the company has an impressive inventory of options as it relates to saltwater aquariums, whether it be in the components they offer or in the "Wet Pets" they provide. As for the live food, the options available seem to specifically address the needs of some of the most notoriously picky eaters that sometimes inhabit coral reef tanks.
The live food options the company provides include saltwater shrimp, copepods, amphipods, algae and more. The amphipods and copepods are frequently packaged together and are shipped in varying amounts. Though it is nearly impossible to verify the number that arrive with each order, it is clear that the company compensates for the inability to guarantee accuracy by shipping portions that are clearly in excess of the amount ordered. The company ships the copepods and amphipods in orders of 250, 500 and 1,000, and it is quite obvious that each order exceeds that number by a wide margin. Despite the fact that customers are essentially assured of getting more than they pay for, Reefs2Go.com routinely offers copepods and amphipods at reduced prices or as a part of a two-for-one deal.
In addition to the copepods and amphipods, another popular feeder is the live marine feeder shrimp, also known as the ghost shrimp. These interesting feeding options are actually quite nice as a simple addition to a tank that does not need them for food, but they are quite frequently used for feeding purposes. Whether they are for eating or just a welcome addition to a tank, the ghost shrimp offers a multitude of benefits by scavenging all of the waste products produced by the other members of the reef community. These shrimp can be bought in bulk or individually, making it quite convenient for tanks of all sizes.
Reefs2Go.com also has a nice selection of macro algae and brine shrimp, again providing a number of feeding options for those tank dwellers that tend to be the most difficult to keep happy with regard to their food options. In addition to offering such a wide range of food options for all of the varied tank inhabitants, perhaps what is most impressive about the site is the vital information that accompanies each product description. Most sites would only provide a brief description accompanying a picture, but Reefs2Go.com offers in-depth explanations relating to how each product should be used and which types of saltwater tank inhabitants will benefit the most.
The company's shipping procedures are also deserving of praise, as it clearly goes to great lengths to ensure that customers get more than their fair share when they order live food while carefully packaging it to make sure that it arrives safely. This attention to detail is impressive, and it should serve to alleviate any concern a customer may have regarding the potential for damage during shipment. Even in the rare instances in which damage does occur, the company has a solid policy in place that offers customers significant protection if something unpredictable happens during shipping.
When it comes to live food options, it is clear that Reefs2Go.com is one of the very best. Its varied selection, quality products and clear commitment to customer service go a long way toward setting the company apart from its competition.