This review was provided by Halden Zimmermann. Whenever I speak with someone who has a freshwater aquarium but has never tried a saltwater tank, I always ask if they'd mind explaining why. In almost every circumstance, the response has to do with the time they would have to spend maintaining the tank along with a statement of concern that they may not possess the skill or knowledge necessary to keep a saltwater aquarium thriving in the way it should.
I remember thinking in this way at one point long ago, but after seeing the beautifully colored marine life — in particular the incredibly bright Zoanthids that now dominate my tanks — I knew that any amount of effort would be entirely worthwhile. So, whenever possible, I show pictures of my aquariums to those who have not yet set up a saltwater tank of their own, or, better yet, I try to show them the tank in person.
It is almost always the brightly colored corals that sell these individuals on finally making the switch from freshwater to saltwater, which is why I was so very impressed with the range of options provided by Aquarium Depot. I have ordered through the company's online platform on several occasions, and there is simply no doubt in my mind that there is no better way to find the most visually striking soft corals than through the selections made available through Aquarium Depot.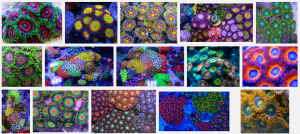 For the purpose of this review, I ordered several unique Zoanthids to add to three different tanks in need of additional color. Of all the ones I ordered, I was most pleased with the hilariously named — but also aptly named — Psychafriggindelic Zoanthids Coral. Of course, I was pleased with each and every one of the Zoanthids that were delivered to my doorstep with the typical lightning speed I have come to associate with Aquarium Depot.
As always, all of the corals I received were as described and as depicted on the company's site, and even though the corals tend to be more tolerant in terms of longer shipping times, I always seem to get my shipment within two days. What surprised me most, however, was not the speed of the shipping or the quality of the corals, but rather the inexpensive cost for such an impressive array of Zoanthids. It is also worth noting that the company's site includes care information that makes it quite simple for beginners to make the most appropriate choices for their new saltwater tank.